Things are really on the move for Scugog Animal Hospital …… Literally!
Dr. Jessica Sherwin and Dr. Roland Powers are happy to announce that they have joined forces, and they have some very exciting news to share with everyone, so spread the word!
In 2011 we received notice from the landlord that the current building was going to be sold.  This news provided the opportunity for us to pick a new location that is very accessible and has lots of paved parking.  It also gave us the opportunity to plan and build a significantly upgraded hospital facility which could provide new technology and services to our clients, patients, and the community. 
In early 2012, Scugog Animal Hospital and the entire staff will be moving to a newly constructed hospital located in the Old Simcoe Center beside the Tim Hortons.  The quality and care that you've come to expect from Scugog Animal Hospital will continue uninterrupted. 
The new hospital will be fully handicap accessible, with a dedicated handicap parking space right at the front door.  It will also include features like heated recovery for animals in ICU, digital dental X-ray imaging to evaluate the health of teeth below the gingiva (gumline), laser surgery which significantly decreases the bleeding/pain/swelling experienced by surgery patients and speeds recovery, and an isolation ward for sick contagious patients.  Further services will be provided in the future.
Between them, Dr. Sherwin & Dr. Powers have 60 plus years of combined experience as practitioners of veterinary medicine.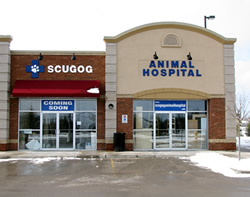 Dr. Sherwin brings with her over 21 years of experience as both a Doctor of Veterinary Medicine and as a former veterinary practice owner.  Jessica graduated from the Ontario Veterinary College in the spring of 1990, and then spent the next 20 years as both an associate Doctor and owner of Baker Animal Clinic in Whitby.  In 2010 Jessica moved on to assist at Sheridan Veterinary Services in Pickering.  Dr. Sherwin maintains a special interest in both dentistry and surgery, especially laser surgery which is extremely beneficial for your pet's treatment and recovery. 
Dr. Powers graduated from the Ontario Veterinary College in the spring of 1974.  Since 1997 Dr. Powers has been the backbone of Scugog Animal Hospital, as many Port Perry residents and pets have come to appreciate. Dr. Powers maintains interests in medicine, dental health, and nutrition.
The staff of Scugog Animal Hospital looks forward to seeing you soon !